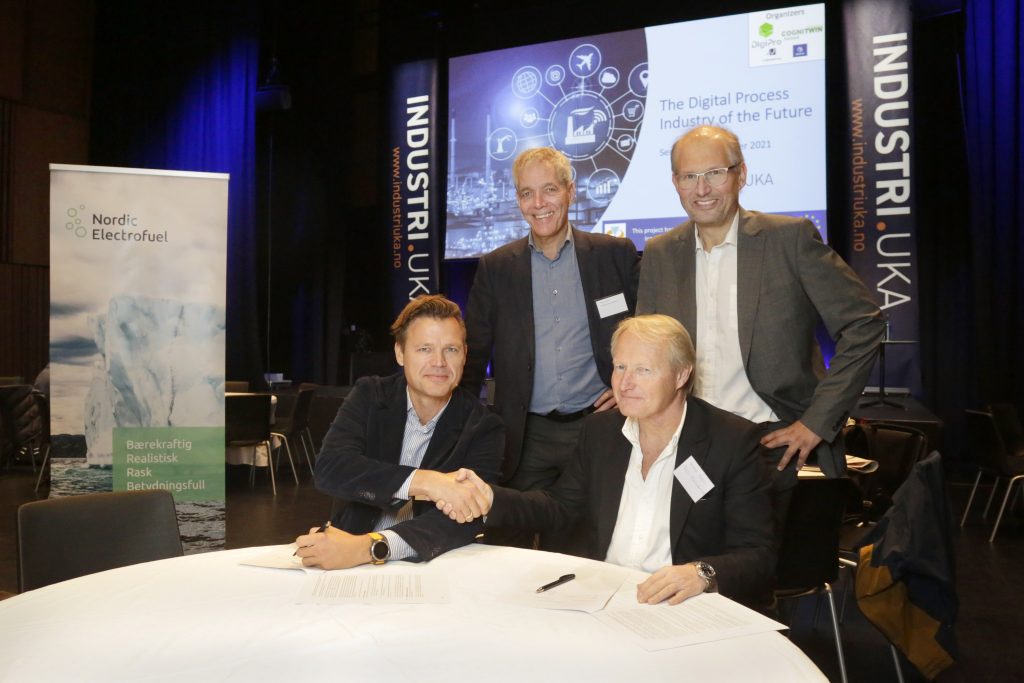 Important signing between Eramet and Nordic Electrofuel on Herøya yesterday
Together with Eramet Norway, Nordic Electrofuel will reuse CO2 from furnace gas to produce climate-neutral fuel. In addition to Gunnar Holen, CEO of Nordic Electrofuel and plant director Roger Westgård at Eramet Norway's smelter in Porsgrunn, the County Mayor of Vestfold and Telemark, Terje Riis-Johansen and Sverre Gotaas, director of Herøya Industrial Park, also participated in the signing.
---
Aker Solutions Wins FEED Contract for e-Fuel Plant in Norway from Nordic Blue Crude (Nordic Electrofuel)
April 29, 2021
Read more!
---
Parkshore Holding to participate in Nordic Electrofuels
April 27, 2021
Nordic Electrofuel received a substantial subscription for new shares from Parkshore Holding GmbH in April 2021. Parkshore Holding is an investment company controlled by Bastian Mueller. Bastian Mueller is chairman of the supervisory board and majority owner of WM SE, Germany's largest wholesale distributor of vehicle parts and services in Germany, with operations also throughout Europe and the United States. He is also board member of the GVA, Germany's independent wholesale distributor association of the independent automotive aftermarket and has a Robert Bosch professional background. As a consequence of the substantial investment, Bastian Mueller was elected as a new board member on the Extraordinary General Meeting in Nordic Electrofuel on April 27, 2021.
---
Nordic Blue Crude AS changes name to Nordic Electrofuel AS
April 27, 2021
Reference is made to the Extraordinary General Meeting held April 27, 2021 where it was decided to change the name of the company from Nordic Blue Crude AS to Nordic Electrofuel AS.
---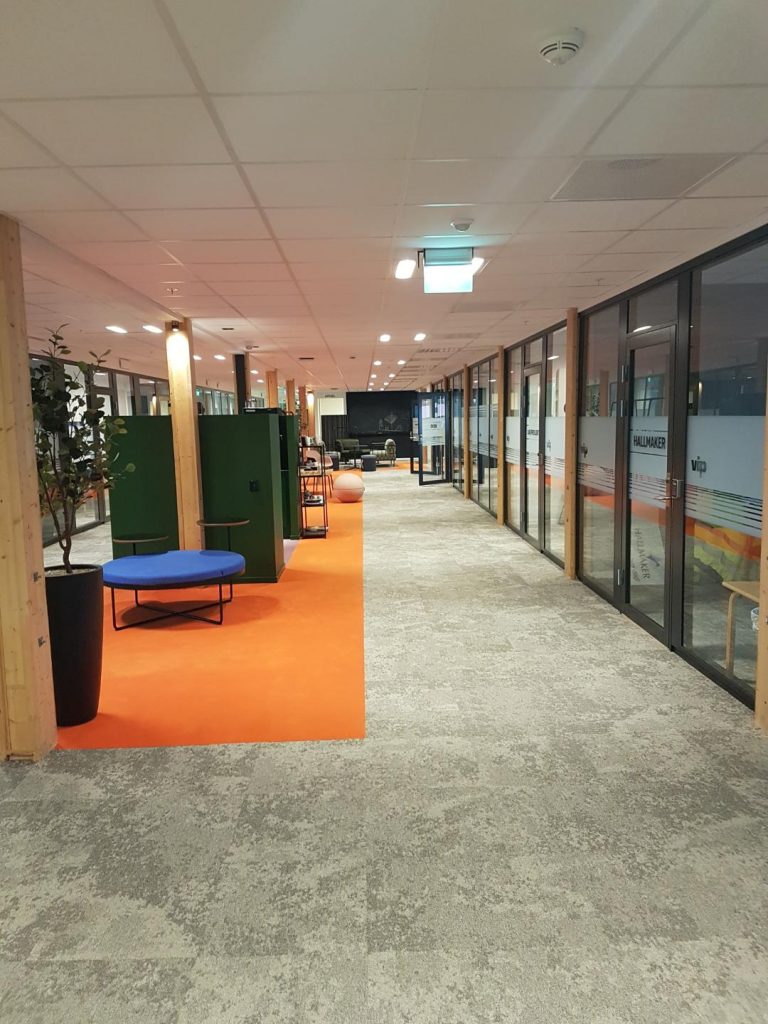 Nå har Nordic Wind AS og Nordic Blue Crude AS fått nytt kontor i Midt Norge: Verdal industripark (VIP)
Tall for industriparken totalt:
Antall ansatte : 3,250
Omsetning : 8 millarder NOK/år
Antall bedrifter: 202
Kontoret ligger i 2. etg. i en egen nyoppusset stor kontorbygning som benevnes VIP senteret. I denne bygningen er det pr. dd. 41 leietakere.
Det er blitt fine lokaler og det er et veldig bra miljø her, med bl.a. stor kantine og mange tilgjengelige møterom.
---
Marquard & Bahls to increase participation in Nordic Blue Crude
DGAP-Media / 08.10.2020 / 16:31
Marquard & Bahls and Nordic Blue Crude have entered into an agreement, through which Marquard & Bahls shall increase its shareholding in the Norwegian company and will commit to equity financing when the first plant (E-Fuel 1) reaches final investment decision. As a result, Marquard & Bahls is consolidating its position as a lead investor taking an active role in the company's long-term development.
---
Marquard & Bahls to participate in Nordic Blue Crude
Marquard & Bahls has acquired a minority stake in Nordic Blue Crude on December 31, 2019. Nordic Blue Crude is a Norwegian company and one of the pioneers in the Power-to-Liquid sector. The investment is an important step for Marquard & Bahls to expand its existing portfolio towards renewable energies.
In light of the rapidly changing energy landscape, the company is actively exploring investment opportunities in the renewable energy sector. Marquard & Bahls intends to become an active participant in the energy transition. As a first step in the renewable transport fuels, the company is now investing in Nordic Blue Crude.