Nordic Wind
Nordic Wind was established by Nordic Electrofuel in 2017 to support its own electro fuel production development activities, and to secure power supply for its future production. Nordic Wind AS has a portfolio of initiated onshore and offshore wind development prospects.

Renewable power represents more than 65 % of Nordic Electrofuel's OPEX (operational expenses). Therefore, renewable power generated in wind plants through Nordic Wind will benefit Nordic Electrofuel with a significant amount of the needed feedstock.

Synergies and effects from the strategic partnership between Nordic Electrofuel's industrial activities and Nordic Wind are considerable. The power plants can be built directly next to the E-fuel plants and thereby relieve existing renewable power producers and the grid. Also, several local green jobs will be created.
In 2023, Fu-Gen AG and Nordic Electrofuel AS reached an agreement for Fu-Gen to acquire 100% of the onshore and offshore wind development company Nordic Wind AS, a subsidiary of Nordic Electrofuel.
The acquisition agreement includes future commercial options for Nordic Electrofuel, as well as options for co-ownership in the wind farms.
The cooperation of Fu-Gen and Nordic Electrofuel will accelerate the production of electricity from wind as well as the production of renewable fuels with high value creation in Norway.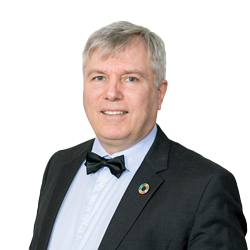 Terje Dyrstad
CEO Nordic Wind
terje.dyrstad@nordicelectrofuel.no